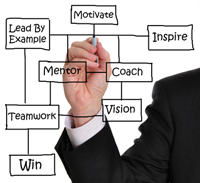 NHC Services
Executive Coaching
with NHC helps busy executives accelerate his/her personal and professional development, and in turn maximize their organizational effectiveness.
Whether transitioning into a new role, preparing for future career opportunities, enhancing strengths, or addressing developmental needs, Executive Coaching with NHC takes your performance to new heights of success.
Leadership Development
helps individuals and teams learn how to optimize leadership talents for maximum success. NHC utilizes current leadership research as well as the organization's competency model(s) to ensure individuals clearly understand the requirements of a successful leader, and demonstrate the desired behaviors to drive organizational success. NHC Leadership Development programs and workshops include:
Leadership for Driving Organizational Growth
Aligning for Success: How to Unleash the Potential in Your Organization
Driving Change During Challenging Times
Leadership Coaching
Leaders Developing Leaders
Team Development Workshops
are uniquely tailored programs to help teams understand specific actions they could engage in to best leverage the talents of all members for maximizing success. Prior to the development of any team program, NHC prepares an assessment process to clearly understand the challenges being faced by the group. Each workshop is custom designed to allow for open and candid discussions of the approaches and outcomes needed for success. Through expert facilitation, these insights are shaped into clear individual and group action plans that could be implemented to greatly enhance success and overall team effectiveness.
Team Facilitation
is often used by organizations to facilitate success across a broad range of areas, such as:
Facilitate the development of action plans in response to group/organization survey feedback
Help create a clear and unified vision and actions designed to achieve the desired outcomes
Develop communication plans designed to facilitate change
Develop business strategy
Facilitate discussions of key business challenges/issues
Change Management
is an increasing popular need for organizations, and NHC helps these companies successfully manage the delivery of individual and team-based programs designed to drive organizational change. Areas of focus include:
Help individuals gain greater personal accountability during times of change
Instruct team members in how to manage change proactively
Help identify key influence strategies
Develop communication plans to facilitate change
Emotional Intelligence
is critical for leaders to "do the right thing at the right time and in the right way". To be effective in this manner, a leader (or team) needs to possess a high level of self awareness and insights. NHC offers group and individual programs designed to enhance one's ability to positively impact the organization through higher levels of Emotional Intelligence.
Individual Executive Assessments
are in-depth assessments designed to assist executives in better understanding their behaviors and the resulting impact on others. The purpose of such assessments is to gain a deeper understanding of oneself with the intent of identifying ways to enhance an individual's overall effectiveness and impact.
Assessment Center Design Consulting and Administration
are areas of support where NHC can also lend expert consultation. NHC can facilitate and guide organizations in the design and development of assessment center simulations, role-player/assessor training, serving as an assessment center administrator or assessor and other areas of need.
For more information about how New Height Consulting can help you and your team perform at higher levels, contact us at today.